Reading Time:
2
minutes
Binance, the world's largest cryptocurrency exchange is running a FREE webinar for crypto enthusiasts across South Africa. Whether you've  just heard about crypto or you're a crypto enthusiast looking to develop trading skills – this event is for you!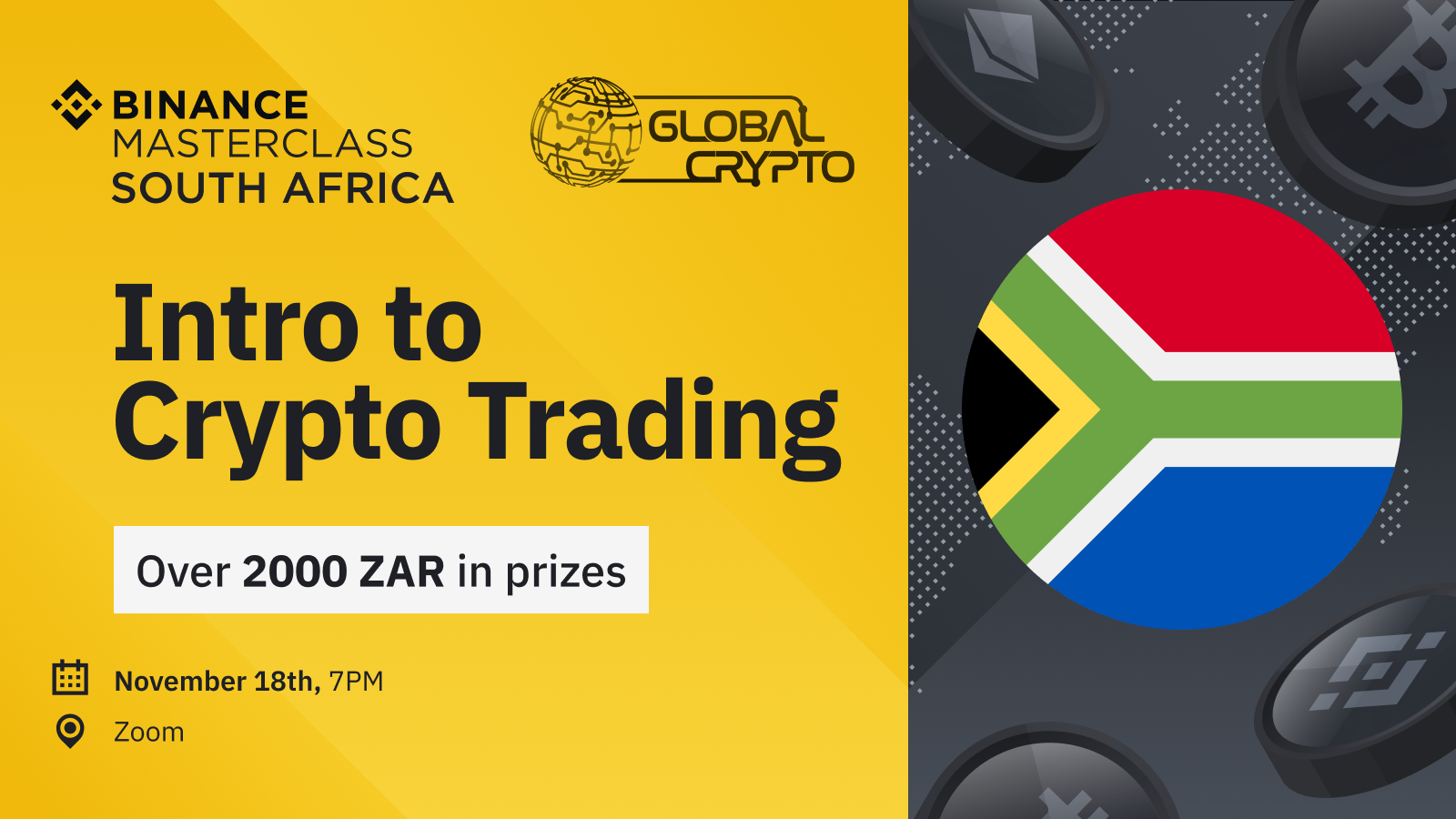 Register here to attend the FREE Masterclass on Wednesday November 18th at 7PM SAST 
About the Binance Masterclass, 'Intro to Crypto Trading'

"Intro to Crypto Trading"
Binance, the world's leading cryptocurrency exchange, is proud to bring you their latest Masterclass for the African market. The cryptocurrency market offers users a unique opportunity, as you can trade 24/7 and for as little as R100 to get involved. However, crypto trading can seem intimidating to some, with so many sources of knowledge people don't know where to turn. Furthermore, the pressures of COVID-19 on the economy mean now more than ever, people need alternative revenue streams.
Join Binance South Africa for their latest trading Masterclass , where they will bring you experts from the field to get you started on your new trading journey.
Trading is a unique and high income skill, and is great as an additional source of income -as you can trade in the evenings, during lunch breaks and even on weekends.
Register now on Eventbrite to attend: https://bit.ly/BinanceSAMasterclass 
BINANCE WILL ALSO HOLD A GIVEAWAY : 3 lucky attendees stand the chance to win over R300 each in BTC!
To qualify, you need to have a Binance account which you can set up using this link:
https://www.binance.com/en/register?ref=M91NXGWT  
Another lucky attendee will win R1000 in trading capital – to kickstart their Crypto trading journey! 
Speakers include:
Thabang "Thiza" Senooane, Crypto educator and entrepreneur

Wesley Patrick, Co-Founder of QuidPro 

Brenton Naicker, Business Development Manager, Binance South Africa

James Preston: Executive Editor, Global Crypto 
Webinar Highlights
Acquire skills you can use to make an alternative source of income – especially amidst economic downturn caused by COVID (i.e. COVID proof source of income) 

Learn cryptocurrency trading basics for FREE

Free swag giveaway for social competition: Share the link to join the event across all your social media channels once we begin. Three Lucky attendees will walk away with some awesome Binance merchandise
Want to stay updated on the Binance ecosystem in South Africa?
Join their South Africa Telegram community 
👉https://t.me/binancesouthafrica
Follow them on Facebook
👉 https://www.facebook.com/BinanceSouthAfrica 
Follow them on Twitter
👉 https://twitter.com/BinanceAfrica  
Follow them on Instagram
👉 https://www.instagram.com/binancesa/