Reading Time:
3
minutes
This is an "associate post" and has been paid for as part of a partnership programme with Binance South Africa.
When it comes to cryptocurrency, education is critical to adoption. The spread of information plays a key role in spreading the freedom of money. This year alone, we brought valuable information and education about Bitcoin, blockchain, and cryptocurrencies to hundreds of thousands of people across Africa, through our educational events, AMAs, and Binance Masterclass events, the latest of which had well over 12,000 total attendees.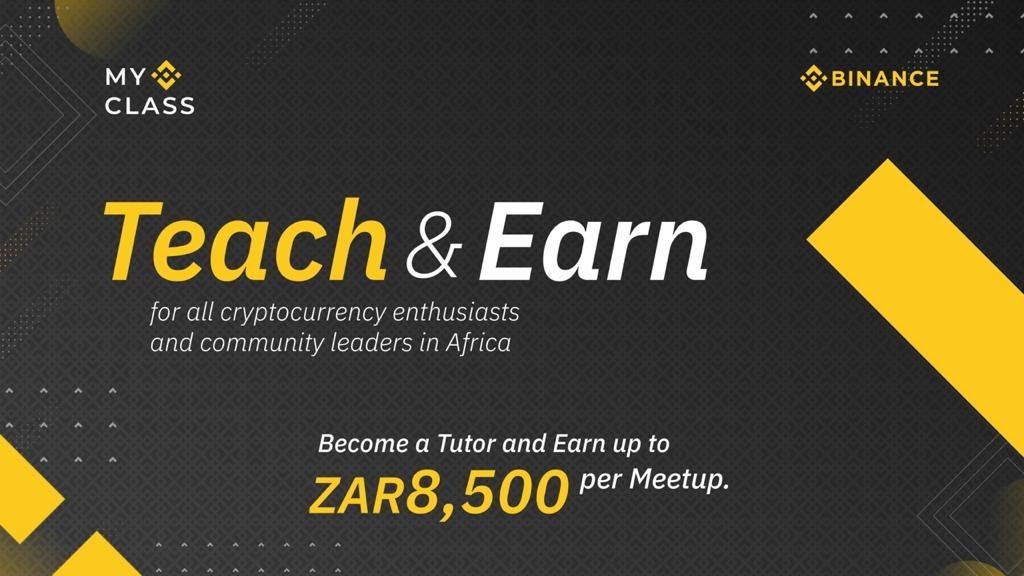 To further incentivise crypto education in Africa, we are launching #MyBinanceClass, a first-of-its-kind campaign that creates an opportunity for tutors to get rewarded for their efforts in spreading knowledge about crypto and blockchain to all. The goal of the campaign is to decentralise and deliver sound crypto education, through the creation of smaller learning communities. We have provided a R800,000 ($50,000) reward pool for this campaign, which will run for the next 60 days.
Become a Tutor Today
Are you a natural educator who has decent knowledge of blockchain and cryptocurrency? Do you enjoy sharing this knowledge? With #MyBinanceClass, we are calling all cryptocurrency enthusiasts and community leaders to become a tutor, organise your event, and earn up to R8,500 per meetup.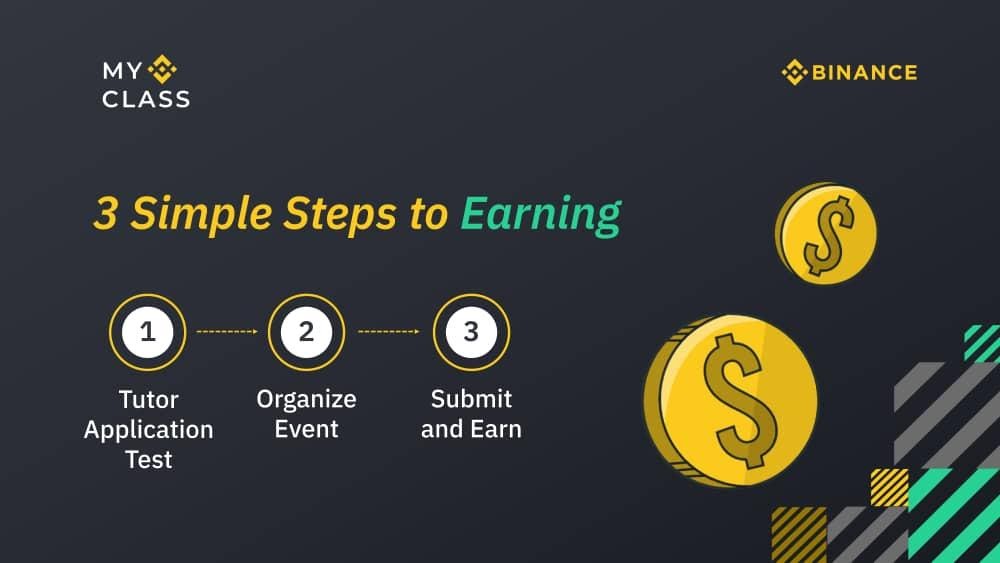 This pilot #MyBinanaceClass campaign launches and closes within a 60-day period.
To get started, all interested tutors should complete this Application Test. 
Once you pass this short test, we will send you all your Binance approved teaching material and instructions on how to get started planning your first event. 
Below, we show the details regarding our evaluation of events, as well as the corresponding bonuses that we can give depending on the scores of these events.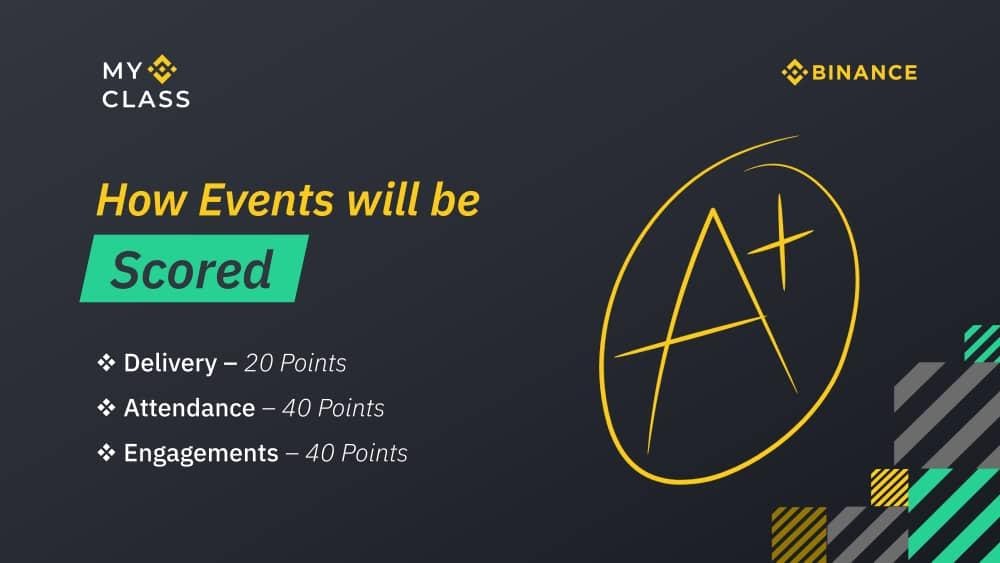 | | |
| --- | --- |
| Event Score | Bonus |
| 0 – 29 points | R500 ($30)  |
| 30 – 49 points | R850 ($50) |
| 50 – 69 points | R1,650 ($ 100) |
| 70- 79 points | R2,500 ($ 150) |
| 80 – 89 points | R3,300 ( $200) |
| 90 – 100 points | Up to R8,500 ($500) |
Terms and Conditions:
All tutors must have an active Binance account complete with KYC.

All approved tutors must watch the training session and read onboarding documents carefully.

Each trainer can only organise a maximum of two events during the activity period.

Events must be submitted using the submission guidelines.
The rewards for all events held and submitted by 23/10/2020 will be paid out by 31/10/2020. For all events held after this, rewards will be distributed by 31/12/2020 . Users can see their rewards by selecting the Account Center > Wallet > Distribution History.

Binance reserves the right to cancel or amend any Activity or Activity Rules at our sole discretion.

Binance reserves the ability to disqualify any participants showing signs of fraudulent behaviour immediately.
Want to stay updated on the Binance ecosystem in South Africa?
Follow Binance Africa on twitter: https://twitter.com/BinanceAfrica
Join Binance South Africa's Telegram and Whatsapp communities:
👉 https://t.me/binancesouthafrica  
👉  https://chat.whatsapp.com/HKIOI9yw26O6GYYPzETqM6
Follow Binance SA on Facebook and Instagram:
👉 https://www.facebook.com/BinanceSouthAfrica/ 
👉https://www.instagram.com/binancesa/
— – – – – – – – – – – – – – –
The views and opinions expressed in this article are solely those of the author and do not necessarily reflect the views of Global Crypto. All investments involve risk, and you should conduct your own research and consult with a registered financial advisor before making investment decisions.