Reading Time:
2
minutes
Press Release: Friday, March 5 2021, 13:00 CAT | Source: Binance
Binance, the world's largest cryptocurrency exchange, will be joined by The Bachelor's Marc Buckner for a crypto education webinar, 'Markets with Marc', aimed at providing an introduction to a range of trading topics and highlighting diverse opportunities for traders including how to trade and the benefits of crypto trading.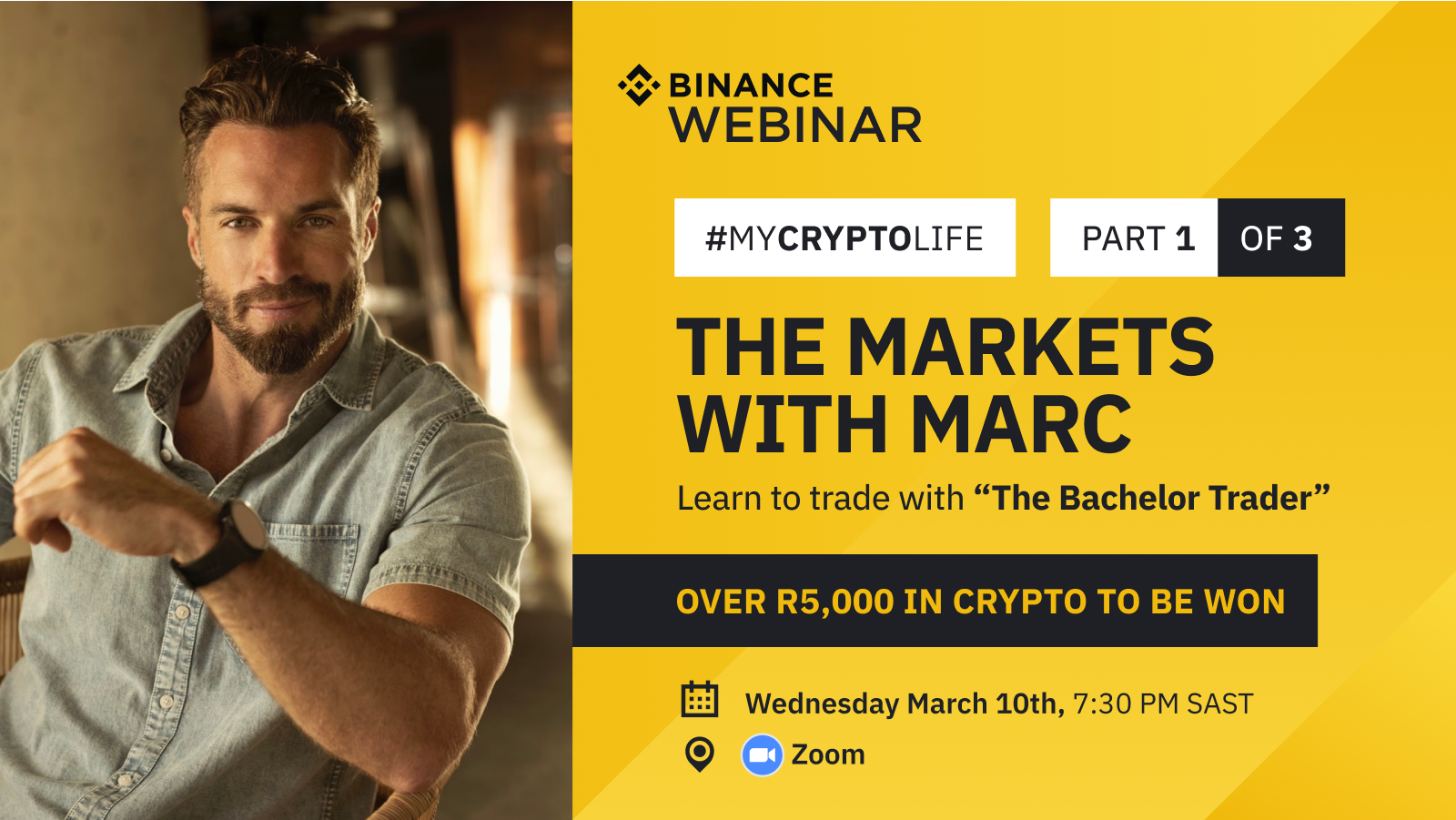 Marc Buckner, a model, and self-taught day trader, established his passion and main source of income as a crypto trader after immersing himself in technical analysis as well as the news. During this webinar, he will share his crypto story as well as discuss the basics of cryptocurrency trading and how it works in simple terms.
The 3-week trading series will consist of
Candles, charts, and basic trading tools
Indicators and chart patterns
Risk management and trade journaling
The series will commence with an event on candles, charts and basic trading tools on Wednesday, March 10th. Whether you're a trading novice or everyday trader, this event is for you.
Location: ZOOM & YouTube
Register at: https://www.eventbrite.com/e/markets-with-marc-webinar-series-south-africa-tickets-144404697337
Date and Time: March 10th 2021, 7:30pm SAST
What to expect:
Learn basics of buying & selling crypto/ setting up your Binance account
Discover how others are using crypto in their everyday lives and how to store value with crypto and earn on your crypto balances
Understand crypto trading and how it works in simple terms and step-by-step
Binance will also be giving away R5000 worth of crypto.
Use this link to register on Binance.com to stand a chance to win!
The crypto trading series will continue with events on:
Wednesday, March 17th at 7:30 SAST and
Wednesday, March 24th at 7:30 SAST.
— – – – – – – – – – – – – – – – – – –
This article is a Press Release received from Binance. Global Crypto did not receive any form of compensation for its publication, and as this material is deemed newsworthy for the Southern African blockchain industry, it was thus published accordingly.