Reading Time:
3
minutes
Have a quick glance at the chart below and you'll be forgiven for assuming that this is the daily candlestick Bitcoin chart. Like the Bitcoin price there is a highly impulse, euphoric climb from A to B. This is followed by a sustained period of weakness from B to C, which gradually becomes less volatile over time. On closer inspection however, one will notice that the price and perhaps most notably the timeline of this chart does not match that of Bitcoin. In fact, this chart spans a time period of over 10 years!
Asset XXX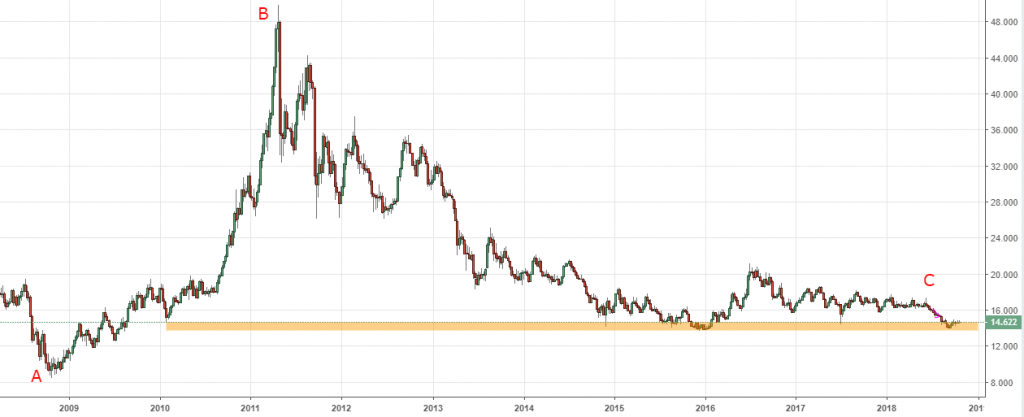 This is the chart of a secret asset, namely Asset XXX. If you can figure out what the secret asset is, then simply post the answer on Twitter or Facebook and tag @sacrypto_ – The first 3 correct answers will win a month's premium Global Crypto subscription!
Bitcoin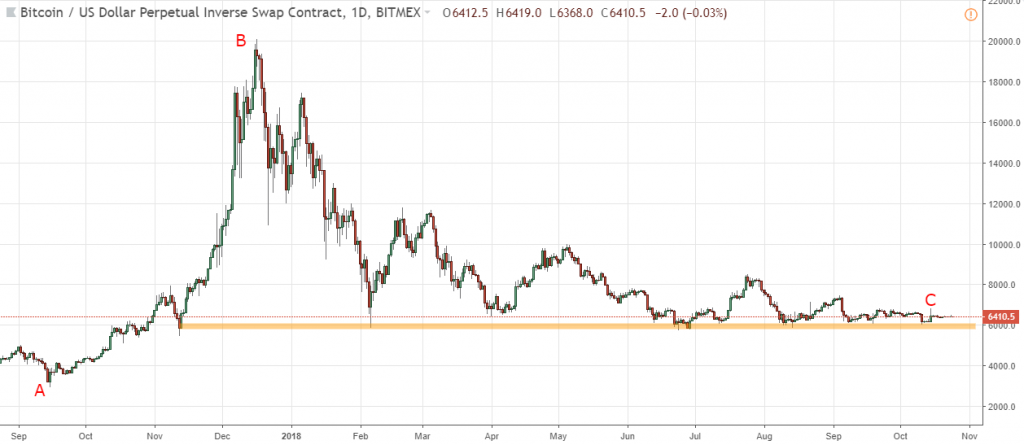 Today, if you tell someone that you are buying some Asset XXX they will most likely look at you very strangely. Many people believe that this asset is "dead" – how many times have we seen the words "Bitcoin" and "dead" in the same sentence?
The reality in my opinion is twofold:
One:
Asset XXX is not dead and nor is Bitcoin – they have just been asleep! I would argue that the fundamental benefits of both assets are just as applicable now as they were at their all-time high prices. In this instance, the major driver of price is simply market sentiment. Today they are both sneered at and despised, but the time will come when the hairdresser and taxi driver are again swooning about this latest "hot investment opportunity" as the price soars to dizzy new heights.
Two:
Whilst Asset XXX and Bitcoin will rise again, they are not due to wake up any time soon. The markets for both these assets experienced a period of excessive euphoria and over performance. The bigger the party, the bigger the hangover. Whilst the fundamentals may tell their own story, traders live and die by the price of an asset. At present, the price action shows little evidence that an end to the slumber is near.
A key factor to consider is that bear markets will generally last longer and fall further than most traders will foresee. Expect a "final twist of the knife" before the market eventually decides to turn. From a long-term investor's perspective, it is perfectly acceptable to be buying at these levels and continue to phase in should the price fall lower. The beauty about Bitcoin is that market trends play out far quicker than traditional assets. What took 10 years to play out in Asset XXX took just 1 year for Bitcoin!
That said, I believe that the smart money is still patiently waiting on the side-lines. Both Asset XXX as well as Bitcoin have key support zones that until now have remained intact. I suspect that this support in both markets will be breached which will usher in a sentiment of ultimate depression and despair. Ideally, at this point every potential seller in the market has sold and thus the bearish market sentiment is truly exhausted. This is the scenario which represents the true bottom and the maximal buying opportunity.
As a trader, it pays to be patient.
Happy trading!
— – – – – – – – – –
Global Crypto is not a registered financial advisory, and the information provided on this website and its subsidiaries is for entertainment purposes only. Each reader is responsible for their own financial decisions, and Global Crypto cannot be held responsible for any decisions made by its readers and users. Global Crypto encourages all readers to consult a professional and registered financial advisor before making any financial decisions.