Reading Time:
2
minutes
A chart that we have been watching very closely in recent weeks is the "Bitcoin Dominance chart". Here, we can see just how strong Bitcoin's dominance is in comparison to the rest of the cryptoasset market. For much of the bear market, Bitcoin's dominance has hovered very close to 70%, and at one point went as high as 73%. That's a remarkable number when you consider there are over 1500 cryptocurrencies!
But our analysis is now showing a "rounded top" pattern forming on this dominance chart, with Bitcoin's dominance looking significantly bearish. The blue zone in the 66% region has provided a strong area of support for the last few months, and this zone is now starting to look weaker than ever.
If we fall below that support zone, it could bode very well indeed for the alts – as what this essentially means is that people are either a) buying altcoins directly with their USD/fiat money or b) buying altcoins with their Bitcoin, thereby reducing the amount of fiat money in the Bitcoin ecosystem, and increasing it in the altcoin ecosystem.
See the chart, mentioned in this week's analysis, below…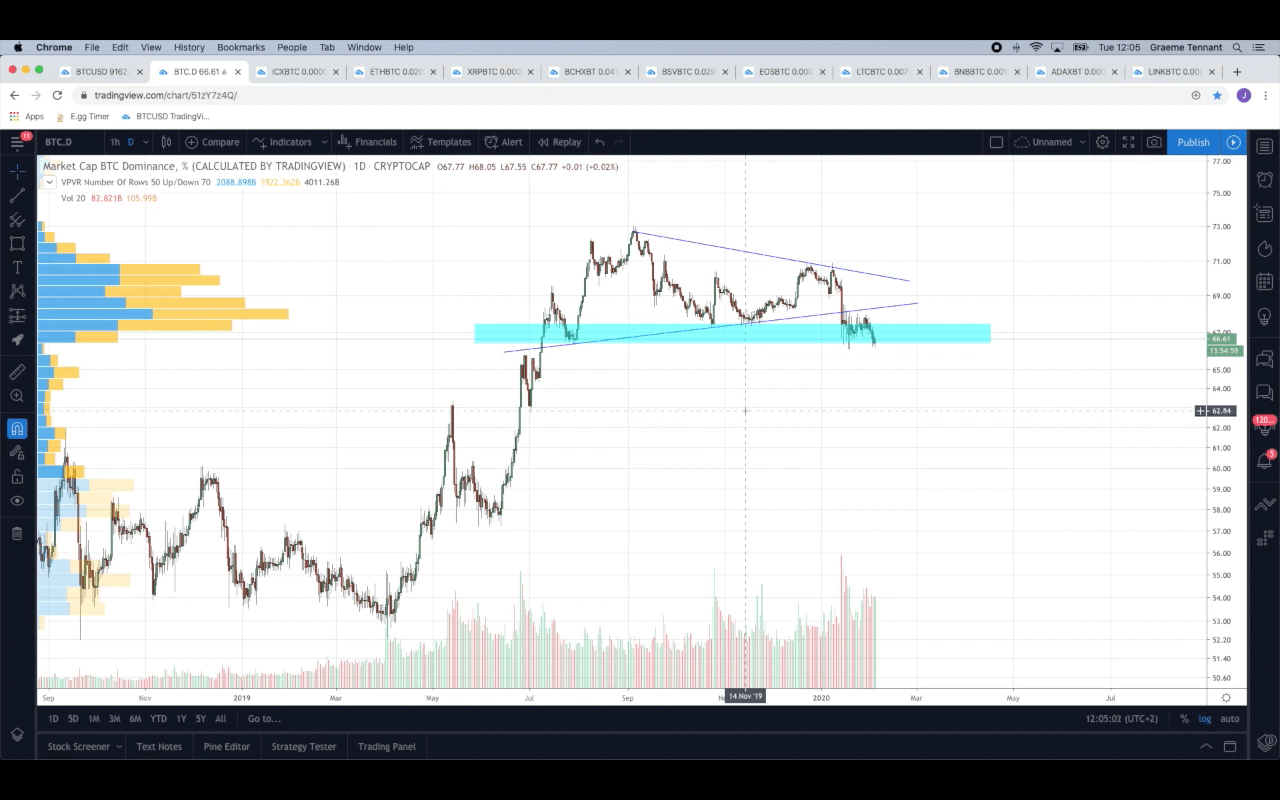 What this all means of course is that altcoins could very well start to move in an upward direction should this above analysis play out. In light of these promising signs for altcoin traders, we take a look at 11 different coins in this week's Market Analysis.
ICX, ETH, BCH, BSV, EOS, ADA, LTC, XRP, BNB, LINK, and of course a short overview of BTC.
Since the time of recording (Tue 4 Feb 2020), the Bitcoin price has shot up 5% to $9700 (from $9300), which still means we need to be extremely cautious, but having said that, the Bitcoin dominance chart has actually dipped from 66% at time of recording to 65% at today's time of writing (Thurs 6 Feb 2020). Perhaps even more positive signs that these promising alt charts are indeed worth taking note of.
Decide for yourself. Watch on YouTube, or listen on our Podcast platforms…
HAVE A LISTEN TO THE AUDIO VERSION HERE…

You can also find the Audio on our Podcast page using one of the below links to your favourite platform. Make sure you're subscribed so you can always find us and our latest episode.
SPOTIFY (James' personal favourite, even with an iPhone!)
ANCHOR (The host service)
DISCLAIMER:
Global Crypto is not a registered financial advisory, and the information provided on this website and its subsidiaries is for entertainment & informational purposes only. Each reader is responsible for their own financial decisions, and Global Crypto cannot be held responsible for any decisions made by its readers and users. Global Crypto encourages all readers to consult a professional and registered financial advisor before making any financial decisions.
Image by WorldSpectrum from Pixabay