Reading Time:
2
minutes
The DEFI space is continually making news headlines in 2021, sparking the interest of many new investors and possibly tempting banks and traditional investors.
When we look at the DEFI Index to get an understanding of the health of the DEFI market, we can see the trend has consolidated over the past 2 months, but with massive volume as speculators have stepped up their bidding aggressively.
The top 20 DEFI projects according to Coingecko can all be classified as "Unicorns" (A privately held startup with a valuation of over $1 billion.)
The DEFI Summer 2021 was the spark that ignited huge gains for early adopters, with multiple new projects entering the space all trying to connect the dots and develop the new Decentralised Financial infrastructure for people to become their own bank.
Taking a look at the DEFI perpetual swap contracts available on FTX, it seems like the price has broken out of a temporary downward trend and has the old All Time High as resistance.
The average volume shows momentum and interest in the market, with the safe play being to wait for a breakout from the current price range and start buying dips.
The Ribbons show the trend is very much intact and a move higher can certainly be expected. The first Fib extension target is 25% higher than the old All Time High, which would be a conservative target.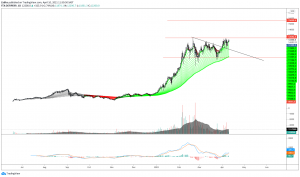 Many new projects have proven themselves with showing promising earnings in terms of revenue generation. The move away from Ethereum to other Layer 2 projects like Solana and Binance Smart Chain is evident in the huge price appreciation in the last few days on $SOL and $BNB.
DEFI prices are going to take a second leg up and this could be a cycle that propels real use case projects into the main stream. Marc Cuban was recently quote as saying that "DEFI had the potential to explode."
Having a look at Defipulse, more than 55 Billion dollars are locked in DEFI at the moment:

Considering I've allocated a small portion of my crypto portfolio to DEFI, I'll be doing further weekly updates on the index's price movements in April, along with some individual of the  projects as well. Stay tuned.