Reading Time:
2
minutes
Last Sunday, in a Twitter poll, Airbnb CEO Brian Chesky sought feedback from his 400,000 followers on what they'd like to see from the rental service in 2022.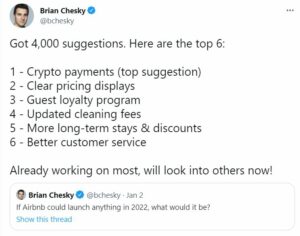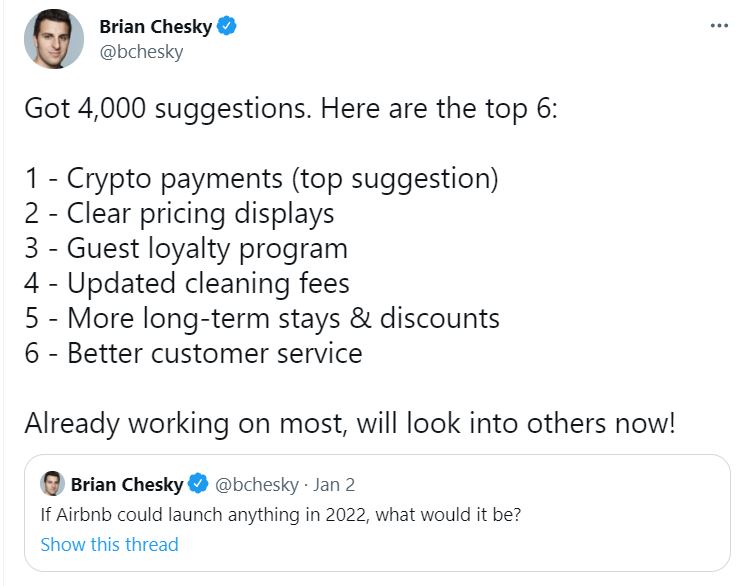 Chesky found that most respondents want to be able to pay with Bitcoin ( BTC) as well as other digital currencies when they rent their next apartment or house through Airbnb. Other demands included a clear pricing display and a loyalty program for guests, updated cleaning fees, and improved customer service.
He also said that the company had started work on many of these ideas, such as "Crypto payments" that are "inclusive of a wide range of tokens," i.e., they might include various cryptocurrency tokens to be used as a payment option.
The CEO further stated that he'd been exposed to numerous token options suggesting that Airbnb's cryptocurrency payment option is not limited to just two or three digital assets.
Airbnb today accepts Visa, MasterCard, Apple Pay, Google Pay, and PayPal as payment options. The CEO also said that Airbnb had processed $336 million in transactions since 2013.
Although Airbnb and other major commercial corporations are yet to incorporate crypto-based payment methods, such theories have resulted in a lot of engagement on social media due to the crypto community.
In addition, the top companies in the commercial sector that have committed to incorporating crypto have seen significant growth in their financials and considerable community support.
Airbnb is a leading online marketplace for accommodations. They offer accommodation in homes for holiday rentals and tourism-related activities.