Reading Time:
3
minutes
Financial analyst Brenton Naicker has recently launched a new trading group catering specifically to those in emerging markets. His name may ring a bell, as he is a regular contributor on Global Crypto, consistently providing insightful and educational pieces and updates on market trends. He is also a common feature in the Southern African crypto industry, and now, wants to help grow the sector on his home continent.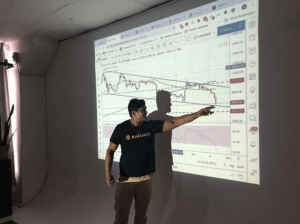 Naicker, who is the head analyst of the group "Daily Crypto Signals", pooled together other crypto trading enthusiasts to test the group's functions before going public. The group provides trade calls, daily market updates, analysis and anything else noteworthy in the crypto market. Highlights of trades closed on the group in the last 3 months are as follows (please note: all trades were taken in a leveraged position):
April 10th 2020, Litecoin Long: 82% 
April 11th 2020 Tezos (XTZ) Long: 83,80% 
April 29th 2020, Ethereum (ETH) Long: 92,2% 
May 1st 2020, Litecoin (LTC) Long: 51,6% 
May 1st 2020, Tezos(XTZ) Long: 73,5% 
May 18th 2020 Ethereum (ETH) Long: 75% 
May 30th 2020, Cardano(ADA) Long: 195,44% 
June 2nd 2020, Litecoin (LTC) Long: 83,83% 
June 2nd 2020 Tezos (XTZ) Long: 74,83% 
The group's head analyst believes the opportunities that can be found in crypto are unparalleled. Coupled with the democracy of access and you have something that puts the power back in the hands of the people!
However, the barriers to entry for retail traders are usually quite high, from the complex trading platforms to proper risk management, it can all be quite intimidating. That is one of the motives for launching "DCS Trading": to help crypto traders have a reliable source of market information. Those who are too busy to regularly analyse the markets can just take advantage of the calls made by the group, which all include entry, take profit and stop loss levels. 
The trading style is a combination of swing and scalp trades, with the swing trades making up the majority. All trades are carried out on one of two platforms: Binance Futures or ByBit.
Swing trades often take days to play out, and as such users do not need to fear not seeing a signal the second it's posted.
"Much of what we're seeing in the market is quite concerning – the number of 'gurus' and scammers who are cheating people out of their money is both alarming and appalling," says Naicker.
This realisation led to DCS Trading also launching an education arm, where the team offers personalised online courses. Users can also gain access to guides and step-by-step video tutorials to get them started in the world of crypto trading. 
"Our goal is to ultimately get you to a point where you understand the process of analysis and can perform it on your own, but in the meantime, users have a trusted source on their side." says Naicker.
The DCS Trading team have kindly offered Global Crypto readers an exclusive discount on all products, including courses, training guides and subscriptions.
Readers can use the code "GCPOMP" to get 20% off all products and services on the DCS site. If you would like more information you can join the team's upcoming online seminar on Friday the 19th June at 18:30 , where they will break down the opportunities in crypto and exactly how the DCS group and products work. Users can sign up here.
This 20% discount effectively gives users access to the Daily Crypto Signals group for only 0.0021 BTC ($20.31) per month, by far the most affordable reputable signals package on the market. (This price is if the user signed up for a 3 month subscription up front).
Users can pay in South African Rands or cryptocurrency.
Discount code: GCPOMP
Website: www.dailycryptosignal.com 
*Valid to first 40 customers, Ts&Cs apply.
"DCS" is not a registered financial advisory, and the information provided on their website and its subsidiaries is for informational purposes only. Each user is responsible for their own financial decisions, and DCS can't be held responsible for any decisions made by its users. Past performance does not guarantee future returns.