Reading Time:
5
minutes
In our second edition of the "African Blockchain Profile" series, we meet the co-founder of Revix, a FinTech investing startup founded in Cape Town. Revix aims to take the hassle out of investing in the future of finance: offering cryptocurrencies, weighted crypto portfolios and bundles, and now even tokenised gold, and will soon be launching traditional investment products in various emerging tech verticals. The company is barely a year old, and is the brainchild of Sean Sanders.
Catch the full interview I did with Sanders on Apple, Spotify, or on your favourite podcasting platform here. Alternatively listen to or watch it below: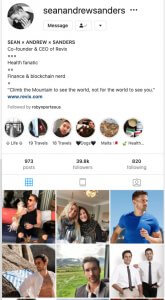 When you come across Sean's instagram profile, you'd be forgiven for thinking you've come across that of an actor, radio presenter, or musician. Just shy of 40,000 followers, and only following 800 people in return (the sure sign the user didn't "buy" their followers), there is every reason to believe that this is the wrong "Sean Sanders".
But the bio confirms the strange sight: "Co-founder and CEO of Revix."
There it is.
In the bright lights of instagram's vanity metrics. The founder of Revix is followed by 39,400 people. Surely these can't be excited young crypto investors?
Indeed they can't. Turns out, Sanders was a model in his past life. Just one glance at his profile confirms this.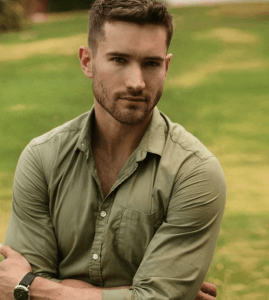 Why Sanders gave up modelling is not quite clear. He seems to have the perfect jawline, hair, and health disciplines to really make it in the industry. But in a recent interview with me for the Global Crypto Podcast, the entrepreneur revealed his passion for business.
Economic Student
It turns out this former Jo'burger not only has the looks, but the brains too.
A graduate of St Stithians College, a Boys High School in Randburg, Johannesburg, Sanders had a knack for economics at the get go. After his High School graduation, he headed on down to Cape Town, where he completed a BSc in Finance & Economics in 2014, and added a Chartered Financial Analyst certificate to his repertoire two years later.
Sanders immediately sunk his teeth into everything economics, and joined an internship program at the Johannesburg office of one of the world's (former) biggest banks, Merrill Lynch. Fortunately it was only a three month internship, as the bank was just emerging from the dust of a major rescue merger with Bank of America after the 2008 Financial Crisis.
After managing portfolios for a prestigious family office in London for four years, the charismatic young analyst was offered a position with JSE-listed Sabvest, one of South Africa's leading investment companies. It was here that the now matured investor and analyst began to feel the itch for entrepreneurship.
"I was sitting across the table from hundreds of entrepreneurs on a weekly basis," Sean tells me in our podcast recording. "I was hearing pitch after pitch from people who had sometimes crazy ideas, but were so passionate about their work that they had given up everything to pursue them. I resonated with that risk and commitment."
But it wasn't this experience alone that pushed the young economist into his own venture. It was interestingly his work as a model that opened the door to starting a business.
The Bitcoin Rabbit Hole
"I had a number of friends in the modelling industry who were making more money than they knew what to do with," he explained. "Everyone in our circles knew that I was a financial analyst, so they asked me to help them with their investments."
One fateful Spring weekend, one of these wealthy, good-looking private investors needed their equally attractive portfolio manager to move a fund from Europe to the Americas. Sanders explains that it was here that he began to understand the power of Bitcoin.
"The bureaucracy of trying to get my client's money out of one jurisdiction to another was an absolute nightmare. Someone had told me about Bitcoin, and its borderless nature so I experimented with it, and after a nervous hour of the cryptocurrency going from one international exchange to the other, it worked! I then used Bitcoin to move assets from one country to another for a few of my clients, and I began to realise the power of the technology."
This experience had sat with Sanders for some time. Now firmly fascinated with this new global, decentralised financial technology, it was only a matter of time before the investor became the investee.
"I was seeing scores of people interested in Bitcoin and cryptocurrencies, with no idea about the safest way to invest their money," says the founder.
While still with Sabvest, Sean then enlisted the help of some of his University friends who had studied computer engineering, and together they built a platform that would automatically buy a bundle of cryptocurrencies weighted by marketcap.
In the height of the 2017 bull market, Sanders knew that the most successful cryptoasset portfolios would be those that had the most responsible diversification. Years of investing and analysing numerous equity and commodity markets had given him the experience to see the opportunity, and Revix was born.
Launching Revix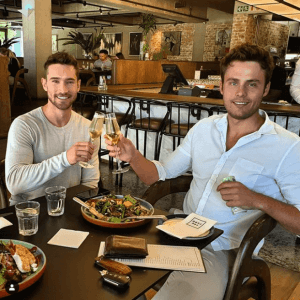 Sanders and his newly formed team set up some meetings with his colleagues and superiors at Sabvest, and pitched an impressive deck about "the future of finance." Thanks to his proven track record in the traditional financial industry, and an impressive proof of concept, Sabvest saw the potential and took a 30% stake in the venture for a hefty R11 million.
Revix was born in late 2018, the height of the cold and frightful bear market, but this gave the team the opportunity to hone their product, and prepare the foundation for the inevitable next leg in the new world of finance.
Now over 18 months old, the company have proven themselves to be a force to be reckoned with, and are in the process of an impressive European expansion.
"We've spent the last few months building our London-based team, and we really believe there's massive opportunity to take this product to an international audience," Sanders explains. But that doesn't mean the innovative start-up will be abandoning its humble beginnings. Sanders proudly proclaims his passion for a low barrier to entry into the investment world: "We want to make sure anyone, no matter their income, no matter their net worth, has the opportunity to invest in some of the most innovative products in the world."
In addition to cryptocurrencies, these investments will include solar energy, autonomous vehicles, artificial intelligence, 3d printing, among a host of others. Sanders explains that with the utilisation of blockchain technology and cryptoassets, his team are able to tokenise numerous investment products and allow for low-fee transactions, driving the costs of investment right down, meaning that anyone can invest with any amount.
It is hard not to be impressed by Sanders. His knowledge of the finance industry gives him a unique insight into global economies, and his passion for cryptoassets and inclusive investment products positions him to become a leading voice in the industry.
Already featured in numerous media publications worldwide off the back of his early Revix success, watch out for this Cape Town based "model entrepreneur" standing out on the runway.
You can catch a 30 minute podcast we did with Sanders that provided the inspiration for this feature on Apple Podcasts, Spotify, or on your favourite podcasting platform here.
Check out Sanders' work at Revix.com
Image design inspired by Karolina Grabowska from Pixabay