Reading Time:
5
minutes
Welcome to a new series we're running about leading voices in the African Blockchain scene. Coming out of Blockchain Africa 2020 in March, there were a host of Blockchain thought-leaders and influencers whose stories we were inspired by. We wanted to showcase these stories, highlight their careers, and find out how they made their way into this wild industry.
We'll publish a feature on a different thought-leader each Tuesday afternoon for the next few weeks, and if possible provide an interview and podcast to accompany the profile.
Special thanks to the Bitcoin Events (PTY) team who put on such a successful Blockchain Africa conference, and allowed us access to the speakers in order to gain these insights and interviews.
INTRODUCING PARESH DAYA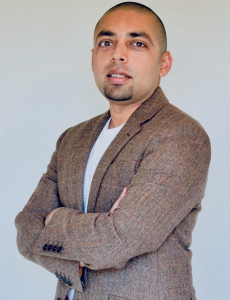 This week we sit down with Paresh Daya, a Durban-born entrepreneur now plying his trade in Johannesburg who started life as an investment banker. At all the wrong times and places.
[To jump straight to the video interview with Paresh, click here]
Paresh's story has become the stuff of legend. On Monday 15 September 2008, Daya woke up like any other day in cooling Autumn London to take the Tube down into the hub of global foreign exchange markets; the famous "Square Mile" where the world's big banks converge to handle the trillions of dollars in trade made every single day.
But this Monday was far colder than normal, and an enveloping Winter was fast approaching. As Daya appeared from the steps of the Canary Wharf Tube station, he was confused by what he saw. Colleagues were standing, almost loitering, outside the Lehman Brother's building, the office where the South African banker worked – some of them holding boxes.
As he approached the crowd, he saw TV cameras and radio mics interviewing some of his executives, also holding boxes.
"What the hell happened?" Daya asked a bystander.
"It's over Paresh," came the reply. "Lehman's is bankrupt."
In an instant, everything Daya knew about finance was brought into question. How could this happen to one of the world's largest banks? Why was there no clue of this happening on the Friday before? What will happen to the rest of the world?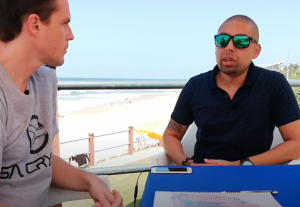 "Being at an epicentre (London) of the global economy during the biggest economic collapse since the Great Depression is honestly the stuff of folklore," Paresh tells me over a coffee in the far more relaxed environment of Umhlanga's main beach. Umhlanga Rocks is a high end holiday destination in Kwazulu-Natal, the province where Paresh was born.
"I'll never forget that day, or that period, for as long as I live," Daya continues. "A friend of mine and I carried on going back to the office during the weeks after because we hadn't officially been giving our marching orders or had our security passes revoked. It was insane. We just spent time in the office gym watching the news coverage of the Global Financial Crisis. There was no-one else around, it was a complete ghost building."
Enter Bitcoin
Eventually, Paresh was offered a position at JP Morgan, still alive and well, in London, where he was exposed to even more complicated financial instruments and worked in the foreign exchange division. It was here that he was exposed to Bitcoin for the first time. In a rather unlikely way.
After a few years at JP Morgan, Daya saw the need to install a VPN to ensure his privacy was protected while working for such a large-scale corporate.
"At check out, one of the options to pay was via Bitcoin," Daya tells me. "I was immediately intrigued, and did some research, and that was my gateway into the rabbit hold of Bitcoin and its underlying blockchain infrastructure."
Daya started going to Bitcoin and Ethereum meetups in London, and learning all he could about the technology and its possibilities.
By then Bitcoin and cryptocurrency had gained some steam, and Daya foresaw that this technology was set to revolutionise finance. The South African returned to his home country and settled in Johannesburg with his wife, where he teamed up with one of the country's large financial banking institutions to assist in tech architecture.
It was in this role that Daya grew as a thought-leader in the space, and found himself being invited to speak at numerous conferences and seminars internationally about the tech. He also directed his passion and founded two companies, "Blink": A blockchain development consultancy, and "BECSA": The blockchain entrepreneurs club of South Africa, a community that aims to foster entrepreneurship for those building in the industry.
After half a decade in the architecture role, Paresh saw a new opportunity present itself with serial entrepreneur and FinTech developer Llew Morkel. Morkel had been working on South Africa's version of "Ethereum" for almost a year, and was ready to begin the process of taking it to market. When he approached Daya to head up the company's strategy, it was an offer too good to ignore.
Southern African Blockchain Entrepreneurship
"I've always had an affinity for entrepreneurship, and I made this move to fuel this passion," Daya explains to me, with a clear glint in his eye. "There are numerous blockchain platforms that allow for people around the world to build decentralised financial solutions. But all of them are facing a scaling challenge, and they're all founded by international developers. Fraxeum is built by one of SA's leading FinTech engineers, and it has Southern African businesses at the heart of its ethos. This gives Southern African FinTech entrepreneurs an opportunity to build on a local network that will have far less congestion, but offer the same security that traditional blockchains offer."
Daya tells me that looking at the economy of sub-Saharan Africa will open your eyes to just how excluded people are from the banking system.
"We all talk about 'banking the unbanked' in the blockchain industry," he says. "But South Africa is a key jurisdiction where this needs to happen. Most people are either locked within an ecosystem they can't afford to escape from, or they are excluded altogether."
He goes on to say that the rise of fourth industrial revolution technology is going to drive digital innovation and in turn the payment networks and gateways, and he envisions Fraxeum being part of this revolution in Southern Africa.
"But what about right now? What about the current economic crisis? How do we get out of this mess now?" I ask.
"It will probably take at least 18 months until we start to see any kind of recovery from this Coronavirus inflicted recession," Daya explains. "Governments need to control the contagion itself, and then implement economic measures that drive entrepreneurship. SMEs and start-ups are going to lead the wave of change in the new economy, and I'm passionate about assisting in those waves."
It is clear from his passion that Paresh is serious about this new venture. The timing couldn't have been worse. Launching a new blockchain startup in a newly downgraded emerging market like South Africa in the midst of the world's biggest health Pandemic since the Spanish Flu of the 1910's. But if there's anything I've learnt in the last 24 months of bear market crypto conditions, the businesses that flourish are the ones that put their heads down and "buidl" like there is no tomorrow, despite the surrounding circumstances.
Or is it, in the case of this use of the metaphor, that there is a tomorrow? And successful entrepreneurs are the ones who can see that?
Paresh Daya seems like one such entrepreneur.
— – – – – – – – – – – – – – – – – – – – – – – – – – – – – –
You can watch the source material of this feature piece in the video below, an interview I did with Paresh just after Blockchain Africa 2020, and right before the country went into a nationwide lockdown:
You can contact Paresh by emailing him on paresh (at) fraxeum (dot) com | or visiting him on Twitter at this link here.
We'll have another African Blockchain Profile same time next week.
Image design inspired by Karolina Grabowska from Pixabay