Reading Time:
2
minutes
Press Release: Friday, February 19 2021, 08:30 CAT | Source: ChainEX
From 10 000 users on 28 October, 2020 to 20 000 users on 12 February 2021, South African crypto exchange, ChainEX, has doubled in numbers in the space of 4 months.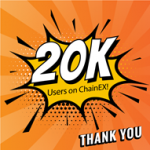 ChainEX is a South African cryptocurrency exchange that offers traders a platform to buy, sell and trade different cryptocurrencies. The exchange is currently the only and the first of its kind in South Africa to list UNI, YFI, SUSHI & Bitcoin Vault & now ELCASH!
Head of Community at ChainEX, Michael Bernardt, further went on to express his thoughts and sentiment on being the first & only South African crypto exchange to list the above-mentioned coins.
"With DeFi taking off and the huge demand for it, we thought it would only be appropriate to have our users gain access to these exciting markets. ChainEX is quick to adapt and would now be the first exchange in South Africa to offer these markets to its users!"
With more than 20 trad3able assets at ChainEX, the addition of DeFi coins LINK, UNI, YFI & SUSHI gives the exchange a competitive edge. With so many coins listed on ChainEX and an influx of users, ChainEX has partnered with IntoTheBlock & BlockTrading. IntoTheBlock is an international data company and BlockTrading is a South African signal providing company.
The two partnerships will give ChainEX users an opportunity to enjoy trading signals & indicators based on analysis by experts in the field.
For more information on the partnerships & new coin listings, visit the ChainEX blog.
                                                       –ENDS—
— – – – – – – – – – – – – – – – – – –
This article is a Press Release received from ChainEX. Global Crypto did not receive any form of compensation for its publication, and as this material is deemed newsworthy for the Southern African blockchain industry, it was thus published accordingly.
Feature image by Quote Inspector from flickr