Reading Time:
3
minutes
Our Financial Analyst, Graeme Tennant, has been man-down with the flu this week – but with the BTC price moving like it is, we asked him for a Voice Note yesterday evening (Friday June 20th). Below is the Voice Note, and we've taken it and turned it into this written article as well, along with his relating charts below…
LOOKING VERY BULLISH NOW
The Bitcoin price is looking very interesting at the present moment, however, before we get stuck into that… There's a little bit of news from the traditional financial world we need to look at… And that is the federal reserve announcing that they are looking to cut interest rates, which has led to a spike in the Gold Price. It's important to understand the relationship between interest rates, Gold and possibly even Bitcoin to understand the bigger picture.
Two things to consider with regards to interest rates:
When interest rates for a currency are cut, there is reduced incentive to hold that specific currency – in this case the Dollar. That makes sense, because if you're getting paid a lower interest rate for holding a specific currency, there is an incentive to move into a different currency or a different asset.
Reduced interest rates, all things being equal, leads to higher spending – and higher spending is going to result in higher inflation, and Gold is a favourite tool to hedge against inflation – and that is what we've seen in this case.
Investors have moved into gold, and quite strongly, on the back of this announcement, with the anticipation that inflation is going to pick up. So if that is what Gold is doing as a result of inflationary fears, then we should expect to see the same happening with digital gold a.k.a. Bitcoin.
Obviously, I've been watching Bitcoin very closely and it hasn't disappointed. We've moved quite strongly above the previous support level, and I expect that the price to continue moving higher. If we take a step back here, and look at bitcoin and crypto in general and say "what is the actual purpose of cryptocurrency? Is it genuinely an alternative to the current fiat system?" If it is, then we should see bitcoin responding positively in these type of scenarios where interest rates are falling and inflation fears are rising.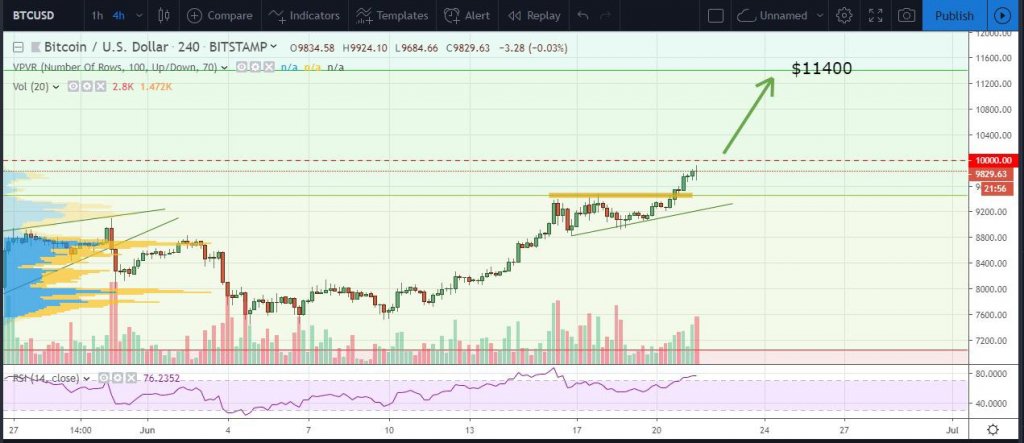 (The following is now edited to reflect the recent breakthrough of the $10,000 level)
And so far so good! If we have a look at the chart now that we've broken through the $10,000 level, I think now it's fairly clear skies so my bigger term targets are $11,400, where we should see some very significant resistance, and thereafter $13,400 is the next target from my perspective.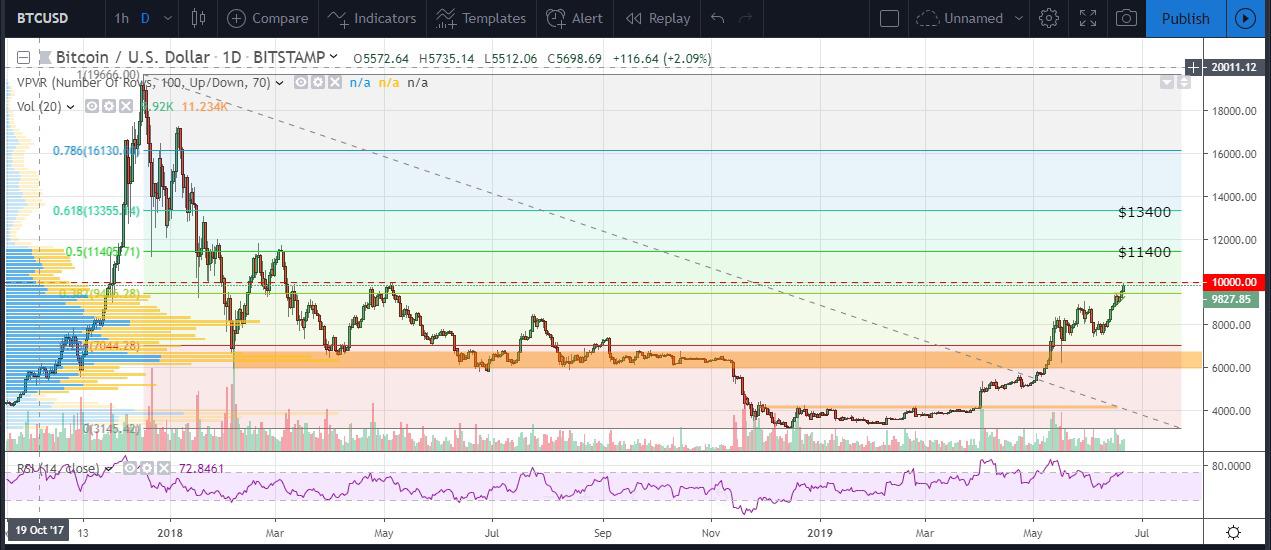 So all in all, I'm very bullish right now. I think the Bitcoin price and its chart is looking just about as good as it as it ever has, so i'm still long! Enjoy the weekend and happy trading!