Reading Time:
3
minutes
DeFi is often very complicated and requires an in depth knowledge into the inner workings of smart contracts. For those looking for an easier route, here are some less risky options available for South Africans looking to get into DeFi.
As spoken about in earlier articles on DeFi there are some ways in which one can put their Crypto holdings to work in order to earn a passive income. FTX has been a market leader when it comes to allowing users to make a passive income on their exchange, so let me take you through some of their more popular options.
There are two ways to earn on FTX using DeFi: Staking and Spot Lending.
1- Staking
FTX offers staking on a number of coins including $FTT , $SOL, $SRM, $UBXT, and $RAY.
Below I have put together a guide to demonstrate the ease at which one can do this.
Each staking opportunity has a small description of the conditions and rewards. Go through each of these until you find the project you would like to stake. In the example I chose Serum, which has a great return.
Click on Staking option in the Main FTX menu

and then navigate to the SERUM tab.



Read the conditions and understand the rewards offered carefully. Then click on the Stake button bottom on the Right and the "Smart Contract" pops up.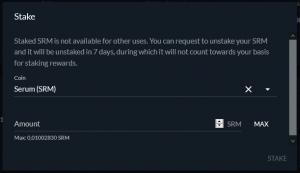 Click max and then Stake and you will be ready to earn, most of the earning can be compounded every hour on FTX which is great as you can maximise the earning potential.
Other exchanges lock you up for lengthy periods and normally do not allow for a compounding function.
Staking is the function of actively participating in validating transactions and securing a blockchain in return for rewards.
2- Lending
FTX now also offers Margin borrowing/Lending on certain Spot tokens. The most lucrative of the lot is the Lending of USDC to other traders.
What sets FTX apart is the ability to compound the rewards. A yearly Interest rate is offered by FTX but is paid out every hour. This allows for some great opportunity to maximise your interest earnings.
First you will need to enable Margin in your account settings Tab.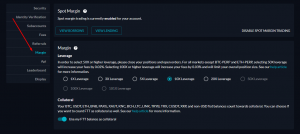 After the Margin Function is Enabled on your account you will be able to start Lending out your USDC, Navigate to your wallet and click on the lend tab.

By clicking on the Lend tab you can Post an offer, and decide how much you want to Lend out.
You can also decide on a rate you would like to receive. However the maximum paid will be the Interest Offer from the exchange.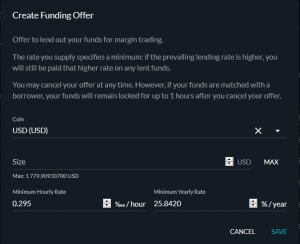 The API does allow for you to automate this function, however if you are not a coder and would like to explore automating this, then I'd love for you to reach out to us at Provoke and we can gladly assist.
I hope this has been helpful. Hit me up on Twitter with any questions, and I look forward to bringing you the next tutorial soon!
If you don't have an FTX account yet, sign up here and receive a discount on fees.
Feature Image by Alexsander-777 from Pixabay